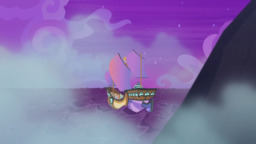 The Island Nations, a small grouping of islands to Equestria's South West. While on friendly terms, Equestria has never had a reason to involve itself in their affairs or short lived wars with one another.
However, the Storm King's passing left alot of his army to its own devices, and reports now talk of the islands coming under attack. It could be a normal affair as the islands do have their rivalries, but Princess Twilight, sole ruler of Equestria, has some concerns and sends her right hoof out to investigate.
Written for the Season 10 Bingo Writing Contest.
Edited by Crowscrowcrow.
Prompt: (Beware spoilers:)
Pinkie clones, Spike, Queen Novo, Changeling Hive, Windigos
Chapters (8)