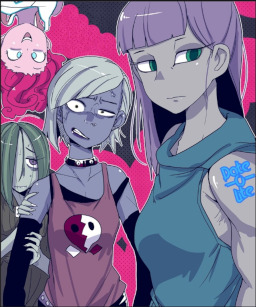 Source
This story is a sequel to Cracks Along the Prism
---
Their first date. It was meant to be, if not an amazing experience, at least a special one for the two of them. It was...unique. In all the wrong ways.
Now at home, all Maud wants to do is go to her room, sulk a little, and think through the what, where, and why of it all going wrong.
However, behind her back, the three most deranged people in the Canterlot area have banded together to, in their own twisted ways, answer those questions for Maud through the quasi-legal use of resources and favors.
It's family bonding time! Maud's consent is not a factor.
Edited, altered, engineered, and steam pressed by the malodorous Crowscrowcrow.
Featured on 12/11/2020! Huzzah!
Order:
Stonewalled at the Spring Fling
Sitting on a Rock
The Quartz Quartette Quarrel
Cracks Along the Prism
Date-O-Lite
Maud's Boulder Holder
Chapters (4)