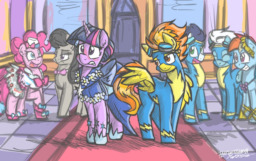 Source
When passions flare and new relationships begin at the Grand Galloping Gala, it can be difficult to sort things out through the warmth and glow of young, budding love. Princess Twilight Sparkle and Captain Spitfire know full well such things are supposed to have a certain progression, but they're not going to let that stop them from enjoying each other's company as much as they can.
Prereading/Editing help by Cryosite, Jondor, Melon Hunter, Meridian Prime, and Timaeus.
Artwork by FlutterThrash.
Chapters (20)