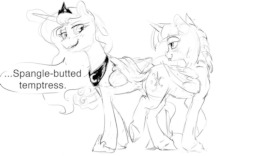 Source
Twilight Sparkle was hoping to spend the morning snuggling with her loving girlfriend, Luna. But princessly duties demand their attention, and Luna has no intention of letting her sleep. Naturally, it's time to object. Creatively. And she's determined to come out on top of things.
Figuratively speaking, at least.
A oneshot voted on by my patrons.
Preread by Timaeus.
Artwork by Silfoe for her Tumblr blog, The Royal Sketchbook, and used with her permission!
Chapters (1)