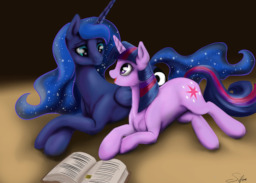 Source
To better herself, Luna has studied Twilight's actions and friendship reports almost religiously. However, she never expected to find the tables turned and be under the microscope herself, nor did she realize that a pony would go so far for one they called friend.
Pre-reading/editing by auramane, Habanc, Foals Errand, Meridian Prime, and Timaeus
Cover art commissioned by me and done by Silfoe and can be found here. Thanks a bunch!
Chapters (47)