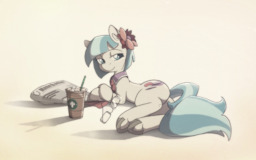 Source
Coco Pommel liked to think of herself as a responsible, hard working mare. She made sure her pieces were made on time, and each of her clients satisfied to the fullest. But such a busy schedule can wear a mare down after a time. Enough so that she can't even muster the energy to read one of her old romance novels.
Fortunately, there's a mystery mare willing to make her fantasies come to life. All she has to do is clear her schedule and enjoy a day tailor made to her needs.
Preread by Cryosite, Jondor, Monochromatic, and Timaeus.
Artwork by Science Fox.
Chapters (3)