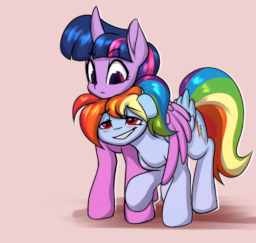 Source
This story is a sequel to The Challenge
---
Rainbow Dash has been happily engaged to Princess Twilight Sparkle, the love of her life, for several months. She's taken her on Hurricane's Way and shared in the rites of pegasus courtship. Too bad she forgot to tell mom and dad before they found out by reading the paper.
But that's just fine. It gives them the perfect excuse to go visit their little Dashie and meet the mare who stole her heart and became the wind beneath her wings.
A commission for Elzzombie, who also drew the lovely artwork for it!
Preread by Timaeus.
Chapters (1)