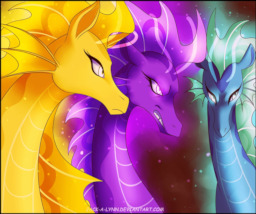 Hate.
It is a powerful force. It can burn through the laws of the heart. It can warp the best of minds. It can torture the purest of souls.
In the end... all it needs is just the right spark.
Written for FTP 9. Cover art by YogurtYard.
Trigger warnings: Swords used for warfare, with all associated slicey-dicey. Fish horses popping limbs off non-human monstrosities. Bone-breaking baddies. Lots of creatures going squish and/or exploding. Horrific transformations, the kind that Lovecraft had nightmares about. Oh, and saucy millennium-old teenage girls who occasionally skinnydip.
Chapters (3)