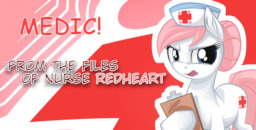 Let me give this to you straight. I'm a doctor. My title says 'Nurse', but I'm a doctor. I deal with sick and injured ponies daily, and give both treatment and advice to them with trust and confidence. That includes a certain six friends and their own medical needs.
If the rest of Equestria actually knew that disaster was one missed pill away, I don't think 'riots in the streets' would be sufficient to cover it. But I'm bound by Doctor/Patient Confidentiality, so I guess I'm the thin red line between civilization, and eternal enslavement by some horror from beyond.
That eternal enslavement thing sounds better every day, mind you.
*Cover image original artwork credited to mysticalpha
Chapters (6)