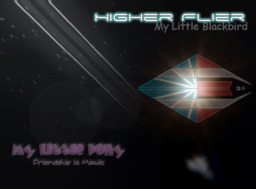 Practicing her sonic rainboom technique on a cool morning in Ponyville with Applejack as her spotter, Rainbow Dash rescues another pegasus from an imfamous Falling Leaf Spin.
Upon recovery, they discover that the young mare had been in posession of an extremely sophisticated camera, now a pile of scrap metal on the ground.
In an attempt to console the distraught pegasus, Dash and AJ search for a solution to her busted optics, only to end with the young pegasus leaving for the manufacturer in a rush of excitement.
Things take a turn for the strange when the same pegasus returns four hours later with a brand new camera... From a round-trip journey of over five thousand miles.
Tempers flare, challenges are issued, and Rainbow Dash's pride is put to the ultimate test.
What is the secret of the photographer known as Dainty Dish?
Chapters (8)