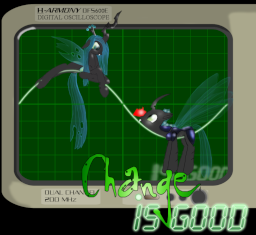 The Elements of Harmony. Six artifacts of legendary power that have provided for the peace of Equestria for over a thousand years. While Queen Chrysalis managed to deny the ponies their ultimate defense, she still lost to a different unexpected surprise in the form of a love-powered shield spell.
However, the Elements won't be so easily denied. Unbeknownst to anyone, they awaken in their vault and cast Chrysalis into another world to teach her a lesson or six about life and harmony.
Stripped of her power, trapped in a form unfamiliar even to a changeling, and at the mercy of the locals, Chrysalis must learn how to get along with others before she is allowed to return to save her hive. And if successful, she may just be allowed to keep her new friend... If he's willing, and if he can survive the drawbacks of being one of the rarest changeling classes ever seen:
A breeding drone.
Join a spoiled rotten queen and a workaholic electrical engineer in the retelling of an adventure that brought them together across the boundaries of space and time. Because sometimes, a little change isn't all that bad.
(Changeling Drone 'Gazer' design artwork courtesy of oFimFiction.net member 'More Dakka')
Chapters (4)