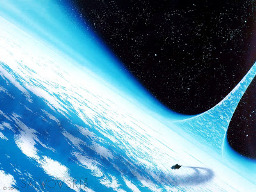 It was a night like any other in Ponyville. It was, until a shooting star turned into a burning streak that roared overhead before crashing off into the distance. At first it looked like a meteor. But then it had turned, quite sharply, and flattened its trajectory, sailing uncomfortably close to the treetops.
Twilight Sparkle had dismissed the idea of visitors from beyond the stars as pure fantasy, the type of pulp novel that Rainbow Dash seemed to enjoy. Now it was a frightening possibility, and now nothing could ever be the same.
Unbeknownst to her, the accidental visitors to Equestria are just as frightened. Laws of physics that had long been understood and mastered have broken down, leaving them trapped and sitting on a possible ticking time bomb on this strange fantasia of an alien world. As utopias collide, both are faced with an event outside all comprehension, events which civilizations rarely encounter more than once, and generally the same way as a sentence encounters a full stop.
A crossover with The Culture series by the late Iain M. Banks.
Chapters (4)