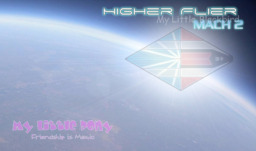 Dainty Dish: The official record holder of the highest sustained speed and altitude over a recognized flight course in Equestria. As well as the holder of the time to climb record for a given altitude. There is no pony in Equestria who can match her abilities.
However, one stallion from from a far off place is determined to catch her. And in a brash attempt to prove himself worthy of her affection, gives chase. Only to fail spectacularly even with months of preparation. So on Hearth's Warming Day he enlists the help of Rainbow Dash, Equestria's foremost expert on speed to help him learn all there is to know about the art of going fast.
Can the mighty Mikoyan Ivanovich Gustaav the Thirty-First catch his dark angel? Or will he be too much stallion for Rainbow Dash- for Equestria to handle?
Chapters (4)