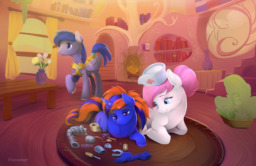 By some cosmic happenstance, a young woman is transported to Equestria, and finds herself in a precarious situation. She's taking it in stride so far. Maybe because finding herself in an alien world and in an alien body is not the worst thing that's ever happened to her.
Some wounds, especially those of the soul, can take a long time to mend. What healing arts can the ponies of Equestria offer a scarred young woman? What can she offer them in return?
Timeline-wise takes place starts off in the later parts of season 4 but before the season finale. It also mentions events from the EG-movies and the comics, but neither of which are required watching/reading in order to understand this story.
Trigger-warnings:
- Human-turned-into-pony-
- Who's kind of okay with being a pony-
- And becomes friends with the Mane 6.
- Being a pony is pretty awesome.
- Has both slice of life and adventure.
- Equestria Girls happened.
- Like the source material, it has adventures.
- And Celestia is not a jerk.
Cover art by the extraordinarily skilled viwsrasputr.
The piece in particular has been uploaded here: https://derpibooru.org/1478347
Really cool art by Cyanjames2819. Also found here.
Leave a comment if you so desire. Simple praise also appreciated.
Chapters (23)