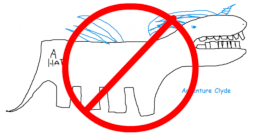 Source
Why would you think this is an Adventure Clyde story? That would be silly! This is a Friendship Is Magic fanfic site!
What this IS, is a story about Twilight Sparkle and the young dragon she has an ill-defined pseudomaternal relationship with. He happens to write stories. Some of those stories might happen to be about the Alicorn of Adventure, but be that as it may, this is a character drama in which our protagonist Twilight Sparkle must struggle with Spike's first exposure to the complex legal and ethical minefields of consensuality in adult relationships.
Okay, maybe this is also a literary deconstruction and reconstruction of "Adventure Clyde" (incl. tumblr and associated reviews and written works), reconciling his existence with My Little Pony: Friendship Is Magic canon, while staying faithful to the My Little Pony universe and offering subtle and profound observations into the nature of scientific rationality, Freudian psychological analysis, and oranges. But we all like literary deconstruction, right?
Right?
*crickets*
---
Now with a dramatic reading by Present Perfect and ShadowOfCygnus!
---
REVIEWERS AND ELLIPSES WARN YOU AWAY:
"This story is egregious serial nonsense. (…) I think I … hated it. (…) It isn't great literature. (…) Recommended." — Titanium Dragon
"My god (...) No." — Present Perfect (Highly Recommended)
"(...) a terrible mess (...)" — Bad Horse (Recommended)
OTHER ACTUAL WORDS SPOKEN BY PEOPLE WHO HAVE ACTUALLY READ IT:
"Oh man. (...) bad (...)" —Protopony350
"(...) by god (...)" —Skeeter the Lurker
"(...) weeping (...)" —Orbiting Kettle
"I have no idea what the hell (...) I fear for my well-being (...)" —Skywriter
THE PRAISE FOR "THIS IS NOT AN ADVENTURE CLYDE ADVENTURE" WHICH GOT THE STORY REJECTED BY FIMFIC MODERATION UNTIL I CENSORED DUBS:
[6:19:06 PM] horizon: Hey guys! Can I get a blurb for my upcoming story?
[6:20:08 PM] Zaponator: "Literally the best thing I've ever read. A true piece of art that puts to shame any written work before it, and will likely stand as a great unconquered titan for any work after it. 7/10 —IGN.com"
[6:20:41 PM] Dubs_Rewatcher: HOLY S**T
[6:21:03 PM] Haze: and this is how Displaced became canon
---
Adventure Clyde™ is a registered service mark of Protopony350 Industries, Ltd.
Chapters (2)