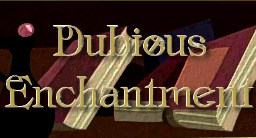 Ponies expect certain things from a mysterious shop that appears at the end of a lonely side street, and Old Gob does his very best to provide that experience. The candlelight flickers, a thick layer of dust coats items of dark and fantastic powers, and the door creaks ominously as ponies enter and leave with their purchases to discover the costs and rewards. Of course, sometimes the costs outweigh the rewards.
They certainly did for Twilight Sparkle and her friends. So when they manage to get to the shop right before it closes and disappears, they aren't going to leave until they get a refund.
(Fic contains a small amount of comedic TwiJack shipping.)
Second place winner for the February Writeoff Association prompt "Closing Time."
Chapters (1)