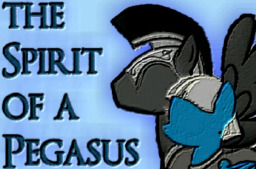 A decade after uniting with the other tribes under the banner of Equestria, there are some fading traditions that the warrior pegasi cling to. One of those is an honor foal for the most commendable female officers; an opportunity to bear a foal of their line while remaining counted as on duty, with full support of the tribe in its care and upbringing.
When Major Pansy is granted an honor foal, she sees it as a chance to offer the strength of her line to the future of Equestria, despite having let her service to tribe and country prevent her from ever having found a suitable mate. But she knows just the pony she wants for its father: a strong pony, a brave and skilled soldier, a wise commander, and the dearest of friends. Considering it, she may want even more from him than a sire for her foal.
But Commander Hurricane has always protected his emotions with a stony mask and an armor constructed so that nopony can pierce it. Especially not the one pony he holds above all others in his esteem: the hopeless soldier who once stood before him for discharge with the true spirit of a pegasus shining through her.  
---
Set in the same continuity as Sun and Hearth and Respect and Respectability, but neither are required reading.
Thanks to GhostOfHeraclitus, bats, Themaskedferret, Axis of Rotation, and Merc the Jerk for prereading.
Chapters (7)