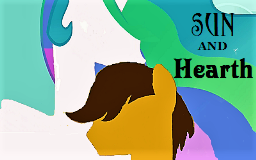 A powerful love story from Equestria's history has been forgotten to time, yet it continues to this day.
Princess Celestia and Smart Cookie have watched Equestria rise. They've guarded it, and each other, against the most vile threats and darkest nights. They share a dream that's entwined their hearts for two thousand years, and a love that's given them the strength to see it realized.
Now they face the ultimate test of that love; one that comes not from monsters or armies, but from the opposed wills of two ponies who want only what's best for one another, their friends, and Equestria, and who can't back down when any of those things are at stake.
(Canon taken into account through season 6... this took me a long time to finish.)
Chapters (22)