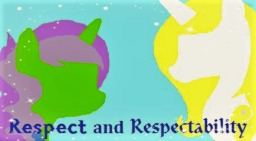 There are many things Clover would like to be doing today: Studying the unexplained magic that saved the world last night, discussing the new nation she and her friends are founding, even spending time with those friends, enjoying having ponies around who actually like her for once.
Attending a party is not among those things. Interacting with the unicorn nobles who hate her is definitely not among those things. And giving up the ratty mage's robes she's worn for years as she suffered their judgement is absolutely not on the list.
But Princess Platinum is throwing a party, and Clover will be there and presentable, whether she likes it or not.
This is a stand alone story in the same setting as Sun and Hearth. It was written for FanOfMostEverything's Imposing Sovereigns contest, and I'd like to thank Themaskedferret, bats, Bradel, and Merc the Jerk for prereading.
Chapters (3)