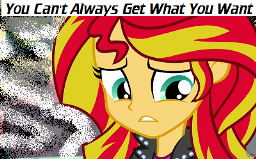 After her little magic trick at the Fall Formal, Sunset Shimmer is not having the best night, and it's about to get worse: Principal Celestia just found out that Sunset has been living in the school clock tower. Now she has nowhere to live, and who's going to take in a teenager with personal issues that include recent demonic possession? No one normal, obviously.
But... maybe someone with a mohawk, a house full of creepy masks, and blue eyes that seem to see more than words -- or rhymes-- can say.
Winner of the Writeoff Association's February WriteOff, "Look, I Can Explain."
Chapters (1)