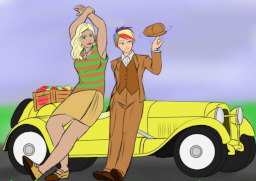 Source
Co-written with Merc The Jerk
Applejack's friend Dash took off for the fast life of the big city years ago, but now she's shown up back on the farm with some big city problems. She knows Applejack will always help her out, and Applejack knows it too; she's always been fond of Dash... maybe a little too fond.
Luckily, the Pomme family has a solution to Dash's problem right in their basement. It ain't exactly legal, and ain't exactly safe, but for a friend like Dash, Applejack is willing to risk her reputation, her neck, and, if the cards fall right, her heart.
Warning for strong language.
Cover art by Eve Ashgrove
Chapters (5)