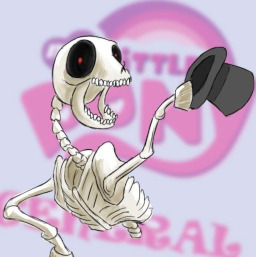 Source
These are the results of the Fimfiction Writes Ponies! project, in which almost a hundred users were allowed editing access to a single Google document, with the final goal of writing a coherent story about colorful ponies.
This... is their story. It is the tale of Mecha-Trixie. It is the tale of Lord Apep, who ate the sun. It is the tale of the shattered multiverse, the permeable boundaries of which may cause the end of all Equestria. Rarity may or may not be eaten by a ghost-shark at the end of things. It is enormous. It cannot be described in mere words. Read it.
Go forth, my friends, and know that this is what Fimfiction has wrought.
If you want to see the original thing in its unvarnished glory, feel free to check out the Google doc, locked for editing but now open to public viewing.
Chapters (18)