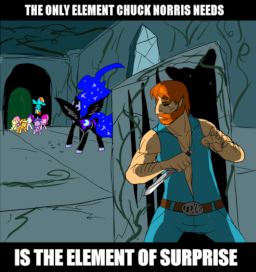 Source
Many ponies claim to be the Seventh Element of Love/Honor/Fluffy Kittens/Whatever, all in the name of superficial love and glory. Many seek to fight monsters, to claim famous mares as their lovers, or to just stroke their egos. Enough for the Powers That Be to notice.
Chuck Norris is not happy.
Chuck Norris is going to slap roundhouse kick a filly.
---
Incredible thanks to Regidar and ThatOneWriter for helping me out by prereading it!
Special thanks to Manes for giving me the inspiration I needed to finish this!
Chapters (5)