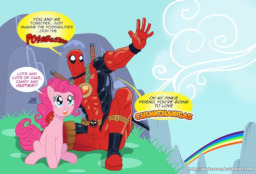 Source
My name is Kyle Stevenson, and I cosplayed as Deadpool for a convention. Little did I know that not only would I find myself in the magical world of Equestria, but I would gain the powers of Deadpool himse—
Wow, would you get a look at this asshole? He thinks he's the shit just because he has some silly widdle healing factor THAT'S NOWHERE NEAR AWESOME AS MINE!
You know, I'm sure he has a life and certainly means well. Perhaps he'll use his powers for good?
Oh! Oh! We're going to kill him for pissing us off, aren't we?
We wouldn't have it any either way.
Boys, I think it's time to lock and load... and show this faker the REAL meaning of chimichangas!
That doesn't make any sense...
Does anything?
Absolutely not!
---
Note: This story stars ME, the REAL Deadpool! Not some cosplaying fake!
This wonderful story was....
Written by Flint Sparks Deadpool.
Especially helped by D-Lamb
Deadpool
Mr101
Deadpool
IceboxFroggie
Deadpool
Chrystalis McCloud
Yellow Box
Everyone's favorite sponge: RainbowBob!
White Box
ThatOneWriter
Chapters (4)