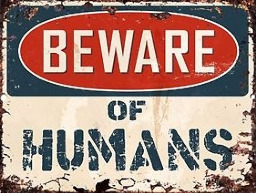 One unlucky young woman from Earth finds herself in one of those bizarre alternate universes of MLP FIM where humans are villainous predators on par with wolves and velociraptors.
Her superior intelligence to the native humans and average skill in wrestling and martial arts convinces everypony that she's a super dangerous badass that wants to eat them for breakfast, when really she's just a harmless joker that means well. The language barrier does not help her case.
Our heroine is well aware of just how stupid her situation is, but she deals with it because adapting to the stupid is one of humanity's finest traits.
Chapters (1)