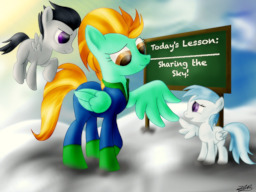 Source
Lightning Dust blew it. Everything she had worked for, hoped for, bled for: gone. All in a moment of blind bravado that nearly ended up harming innocents. With that weighing on her mind, Lightning Dust seeks to lighten the weight on her shoulders.
She loves to fly, foals need to learn to fly, so what's the harm in teaching the fillies and colts to share the skies?
Dedicated to IJAB, who drew this art piece for me many a moon ago.
Editors: Draconian Soul and SpaceCommie. Really nice guys, but brutal. Talk about tough love. Now go give them some!
Preread by RainbowBob. The Spongebob to my Patrick.
Chapters (1)