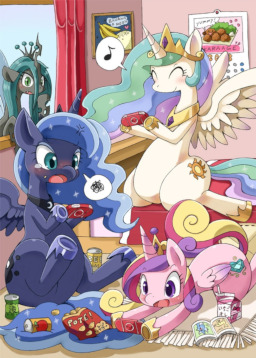 Source
Since Luna's return from the moon, things have been a bit more hectic around Canterlot. This is mainly because of the fact that two sisters have been seperated from each other for a thousand years, so it only makes sense that things would go haywire for awhile.
A slowly growing collection of short stories, most of which don't take place in a certain point in between or during any of the episodes. Nor should any of the stories make sense.
A new challenger approaches! Chrysalis has joined the fray!
A new challenger approaches! Nightmare Moon has joined the fray!
Want an idea of yours made into what hopefully won't be a butchering of your original idea suggested in this mixed upside-down two ways crazy universe? Make a comment below and I'll consider adding it in!
Artwork shamefully taken without asking もりぐる on pixiv (mostly because I have no idea how to begin contacting them)! Have a look at their work here by clicking this link!
Updates once a week (if I don't get hit by the fearsome block of writers or other such things)! Used to update every even-day, but that has changed!
Chapters (106)