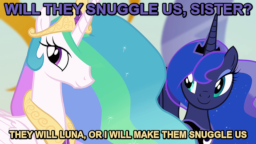 Random Alert! Don't take this story seriously!
Welcome everyone!
Ever wondered what would happen if Ponies took over the world with cuddles?
Ever wondered what Celestia and Tobias got up too after the chronicle ended, or maybe even Richard and Chrissy in-between the Acts?
Then this should probably satisfy all of those desires. So if you're here to read about warm, soft, loving, tender and affectionate snuggly goodness, then you've come to the right fic!
Enjoy, and stay snuggly!
Requests are accepted. Some chapters will contain some dark elements, but not enough to warrent a tag
Chapters (1)