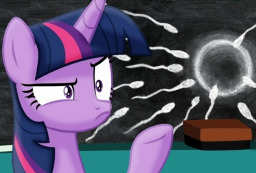 When Twilight accepts Cheerilee's request for her to substitute teach, she quickly realizes the topic is "the birds and the bees". So, not wanting to let down her students, Twilight attempts to teach the subject to the best of her ability.
Sex tag is only there because the story dances delicately around the topic.
Don't want to read? Check out Clever Hooves' audio reading here!
Chapters (1)