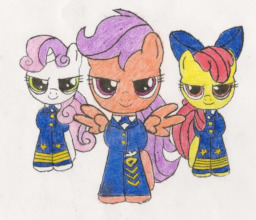 Apple Bloom's recent interest in sailboats and naval activities becomes amplified when she finds out Scootaloo built a sailboat and intends to race it in the annual sailing race across The Equestrian Great Lake, a race she's always wanted to attend. She appoints herself captain of the vessel and assembles a crew. Join Captain Apple Bloom in some crazy maritime adventures and steamy fraternization as she and her crew lean what it takes to run a ship.
Rated teen for Apple Bloom's potty mouth.
Huge thanks to OC+Beats for the awesome cover art.
Chapters (1)