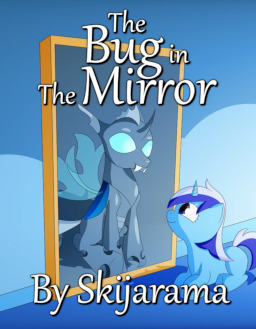 Minuette has an imaginary friend. At least, that's what everypony else thinks.
When ten-year-old magic student Minuette comes into possession of an antique vanity mirror, she is surprised to discover there is a creature living inside: A bug pony with big fangs and glowing eyes. Most little foals would probably be scared of such a creature, but not Minuette. Armed with a cheerful smile, she decides to befriend the bug in her mirror and uncover the mystery behind his bewildering predicament.
It's just such a shame that nopony else can see him.
---
First Act Edited by Mister Hypothetical
Second act and on edited by Xanni & Brony2005
This story is part of 'The Bugs in Strange Places' series, whose other entries include The Bug in The Herd, The Bug in The Basement, and The Bug in The Cave. You do not need to read any of these previous stories to enjoy this one, as they are not directly connected.
Inspiration for this story comes directly from this fine individual right here.
Chapters (33)