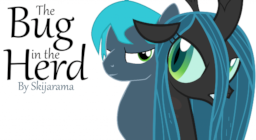 (Set after Season 6, completely disregards season 7 when that comes around, due to the nature of this story.)
It has been several months since Queen Chrysalis retreated from her hive, disappearing into the horizon of the badlands. Relations between Equestria and the Changeling Kingdom have improved dramatically in that time. But Chrysalis is still on the loose, likely playing it safe and quiet, feeding on scraps wherever she can.
It is on one night, at the edge of Ponyville that Tone Shift, an earth pony she had snacked on before, finds her. She is wounded, starving and weak. Despite not remembering their previous encounter, Tone Shift decides to help her anyway, taking the former Changeling Queen into his home to nurse her back to health. With little other choice, Chrysalis accepts his offer to help, wondering what fate has in store for her.
Check out my reading of this story over on YouTube: LINK HERE!
(Sex tag is mostly for suggestive dialogue and jokes, as well as maybe mild sexual content later on.)
Chapters (19)