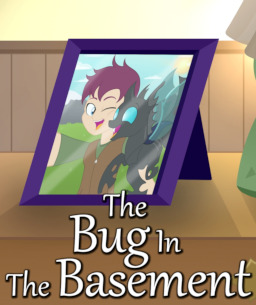 Source
Shortly after a changeling drone leaves her egg in the human world in a last-ditch effort to save it, a young man named Eventide Oath finds himself struggling to decide what to do with a newborn changeling nymph. He has no idea what it is, where it came from, or anything else about it. But with a little help from a good friend, he commits himself to take care of the little guy. Who knows? Maybe the small, bug-like equine will be just what he needs to make his life a little bit brighter.
---
(Inspired by the original premise and opening chapters of "I Am A Pet Changeling," with some smaller sources of inspiration coming from the anime movie, "Wolf Children."
This story is also the spiritual successor to 'The Bug in The Herd,' which was the first multi-chapter Fanfiction that I wrote that I also managed to see all the way to completion.)
(Cover art provided by the absolutely wonderful AureliaCharmCutiees. Go and show her some love!)
Editing now provided by Mister Hypothetical!
Featured on 8/7/2018, the same day I posted it! Glad to see people like it!
Chapters (67)