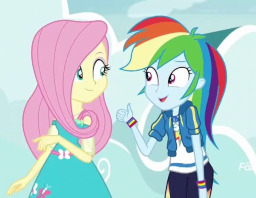 Frightened was an understatement. Fluttershy, one of the kindest and sweetest girls, was being stocked to the point of feeling terrorized. She now has acquired the help from her most loyal friend. Fluttershy and Rainbow Dash, childhood best friends, learn to love each other in a new and confusing way.
Complementary Story: The One Where Everyone Finds Out
Teen Rating for Rainbow's use of foul language


"Fake girlfriend" trope; EG Universe Story only; The others girls show up briefly;
Beta Reader will be done by my gf in the near future. I was just too excited to get this out! This story has been 3 years in the making. Please critique and enjoy!
Chapters (4)