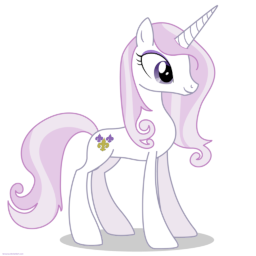 You've had a relatively happy past few days in Equestria, although your memory of your horrible, tragic death back on Earth haunts you, and Twilight stops by your workplace with a piece of happy news. The royals have approved your request for a 'temporary citizenship visa', a little bit of what seems like bureaucratic nonsense but you've gone along with it, and you'll be going off to Canterlot soon. Fleur de Lis, your 'adviser' during this transition, shows you around your new job, your new apartment, and everything else.
Fleur gets rid of your worries and concerns; she shows you you how the princesses sincerely want to help you fit in and set up you up to use your talents in the best way, helping ponies. Yet you feel this aura of sadness that you can't shake. It's not just that you saw your family dying with you back on earth, causing you to wake up screaming. It's that Fleur drills down to you that your wonderful life in Canterlot will be fleeting and that they'll try to bounce you back soon. That horrible clock on your visa counts down-- 325 days remaining before the unique background radiation of Equestria's sun kills you again.
Fleur comforts you however she can. You can't help yourself, and this sweet, tender emotional attraction turns into something more. You've never seen someone this outwardly beautiful with this kind of powerful beauty on the inside.
Chapters (2)