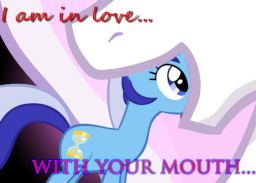 Colgate has to deal with nasty Ponyville teeth all year long. So far the only break she has had is from Spike and the Princesses. When Fleur De Lis visits Ponyville she is given a near royal treatment. Although strangely enough she only visited the small town to see the dentist. A dentist far away from the elite of Canterlot...
Upon seeing the super model's teeth Colgate realizes that she is in love with Fleur's mouth. Every incisor, molar and even her gums. The desire for Fleur's mouth flourishes into a desire for the pony herself. How will Colgate reel Fleur in?
Dental cleanings of course.
Chapters (2)