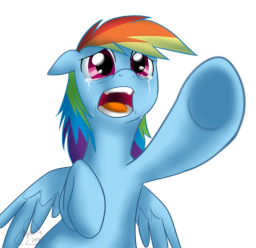 (Major spoilers in comments warning: Please avoid looking at comments to avoid spoilers!)
The production models served as 'companion' units. They provided tender love and caring to people that can't seem to get that from other people. The first version of the first model had a catchy nickname, 'Dash' or 'Dashie', that ended up getting adopted by the whole staff. Of course, the company planned Dash as merely the first of a whole set of bio-mechanical creatures, the later versions looking more humanoid.
In many ways, she worked beyond the company's wildest expectations. Everyone seemed to love her rainbow mane, her fluffy wings, her muscular hooves, and her infectious smile. They programmed her to love them back, of course. Still, the company had one fundamental problem. Dashe kept acting like she was real.
I wrote this for several reasons. First, I was recently banned by Poultron. So, I wrote a fanfic letting out the negative energy. Second, it's a sort of 'spiritual side-quel' to my story Love Can't Be Programmed. Third, I've been obsessed with Blade Runner lately. Fourth, I've always wanted to do my response to My Little Dashie. Thanks to Lucefudu for editing help. And thanks to everyone for reading.
Chapters (3)