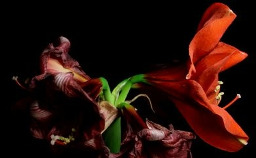 This story is a sequel to Tales of the Oppressed
---
A prequel/sequel to Tales of the Oppressed. (Yes, it's somehow both. Time travel is screwy)
Thanks to the combined efforts of the Equestrian Allied Forces, Sombra has been defeated. The country of Equestria once again returns to the peaceful state it used to be. Seth Rogers and Rainbow Dash, the couple brought together as a result of the grueling war, finally fulfill their promise to one another and depart on their cross-country flight.
But what of Amaryllis, the one girl who served as an emotional anchor for Seth? According to Seth's perception of the timeline, she should have been able to live out her life in peace. However, Seth and Rainbow make a discovery that suggests that this might not have been the case...
---
This is a mostly human-centric story focusing upon Amaryllis, with the intent of expanding and clarifying the universe established in Tales of the Oppressed. While my intent is to make it understandable even to new readers, it is recommended that Tales of the Oppressed be read first.
Edited by Schadenponi and ScootalooFTW
Chapters (18)