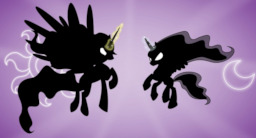 Source
This story is a sequel to Ascension
---
The first story in what will hopefully be my StewardVerse, an alternate timeline, where, in order to save her sister, it was Celestia who was banished to the Sun for a thousand years.
This story comes only a few years before that fateful day as Celestia and Luna make their final stand against the villainous King Sombra in the Crystal Empire. They will face magic darker than they can possibly imagine and a tyrant who's cruelty is greater even than Discord.
However, in the end, is it possible that their greatest enemies will in fact be each other?
Chapters (1)