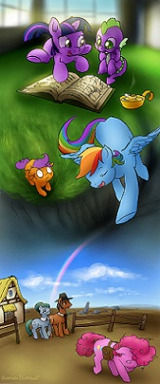 Source
This story is a sequel to Post Nuptials
---
In the aftermath of the wedding, Spike is bitter and avoiding everyone. Twilight's determined to find out what's bothering her charge, but she walks a very fine line when dealing with an emotionally distraught child.
Meanwhile, Rainbow Dash suspects something's wrong with Scootaloo, so she starts spending more time with her in hopes of picking the secret from her brain. As she begins to truly mentor the young filly for the first time ever, she begins to see the advantages to having a little sister.
And while all this is going on, Pinkie is struggling with some old family issues that have been brought to the surface, meaning she might have to confront her past at last.
Art by Conicer
Chapters (28)