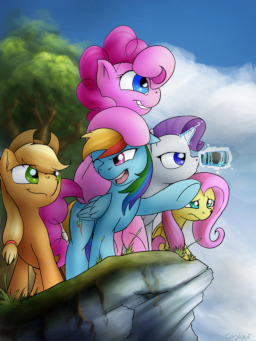 Source
This story is a sequel to Families
---
Third in the Nuptialverse...
Twilight Sparkle has done much for Equestria. If it weren't for her, Equestria would be destroyed three times over by now.
So what happens when she has to leave? What happens when she and Spike are forced to depart from Equestria in order to fulfill their duties? And what happens when there's still important things at home to do?
Applejack, Rarity, Pinkie Pie, Fluttershy, and Rainbow Dash now have to get along without the one who leads them. All of Equestria is counting on them. Can they do it?
AU only post-season 2, since the basic idea for this fic was created long before it aired. Events similar to season 3 have happened, all of which will be revealed. Strongly recommended you read Post Nuptials and Families first.
Cover art by Concier
Chapters (28)