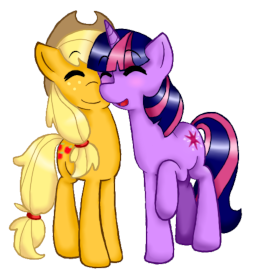 Source
What happens when you realize that your feelings for one of your friends aren't quite the same as your feelings for the rest of them? Do you just prefer some friends for others, or is it a sign of something deeper? What do you do with those feelings? Hide them? Admit them? And how will the rest of your friends react when they find out?
Twilight is going to have to do her best to find the answers, because they're anything but obvious.
------
Yes, this is a story about romance, but I'm trying to use it to explore the relationships between the characters and see how they'd really react if romantic feelings ever did crop up, and how such a development would impact the cast as a whole.
Now with a TvTropes page!
There's also a dramatic reading in progress on youtube, here.
And also an updated verison of the cover, courtesy of Novel Idea.
Chapters (36)