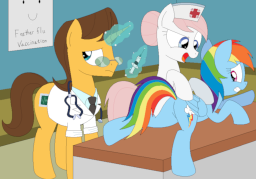 Source
Rainbow Dash's dream has come true, and she's been accepted for training at Wonderbolt Academy. All she needs to do is fill out a few forms, get fitted for a uniform, and get vaccinated for Feather Flu.
That last one might be a bit of a problem.
---
Marston241 showed me the picture, and I pretty much had to write a fic based on it.
Chapters (1)