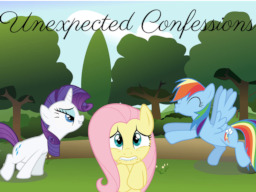 Source
Holding in emotions is never good. Keep them buried for too long, and eventually they burst out at the wrong time. Both Rarity and Rainbow Dash have a secret they have been hiding from their friends, specifically from a certain shy, animal-loving pegasus mare. They've finally decided to come clean, but neither of them counted on the other revealing the truth, much less at the same time.
Now Fluttershy is stuck with an impossible choice between her two best friends. Can she choose one without risking her friendship with the other?
"Sex" tag due to innuendo and suggestive material. No actual sex happens in this story.
---
Author's Note: Many, many thanks to Steel Resolve and Karrakaz for pre-reading and letting me know when I screw up. Now with new cover art, courtesy of johnhilist over at deviantart.
Chapters (33)