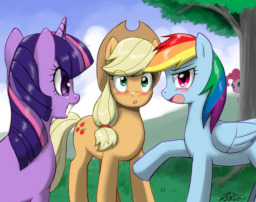 Source
Rainbow Dash is nothing if not an enthusiastic coach and teacher, but her winning smile isn't the reason Twilight asked her for flying lessons.
Okay... maybe it is... but only a little bit.
Still, looking isn't touching. It's not like Applejack could get mad if all Twilight wants is to spend a little time with her marefriend, could she?
---
Written as my entry into the AppleDashLight group's contest.
As always, pre-reading and editing assistance by the amazing Karrakaz and Steel Resolve.
Cover art by Johnjoseco over at DeviantArt.
Chapters (4)