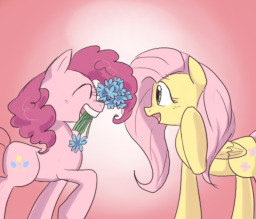 This story is a sequel to A Quiet Party
---
It all happened so quickly. In one single night, Fluttershy confessed to her crush, shared their first kiss, and became her marefriend. The shy pegasus couldn't be any happier, but Pinkie feels she needs to try and be the best marefriend possible for Fluttershy.
Cover art belongs to Yubi.
Thanks to Midnight Radio Hotline for prereading!
Note: Reading A Quiet Party first is not required but is recommended to understand the events of this story.
Chapters (2)