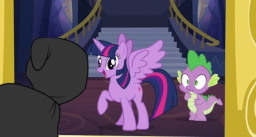 Ponies are dangerous. At least, that's what everydragon says. They even stole his brother's egg years ago. So why are these ponies being so nice to him?
Expect elements of Comedy, Adventure, and Sad from time to time.
Sex tag added for somewhat blunt discussions about the birds and the bees.
Featured: 5/25/2014
Reason: Smeg knows. Love you anyway though!
Don't feel like reading this before jumping to the sequel? No worries, this blog post will catch you up to speed in about 2 minutes.
Now with a Spanish Translation: https://www.deviantart.com/spaniard-kiwi/art/Un-nuevo-dragon-1-11-923167089
Chapters (34)