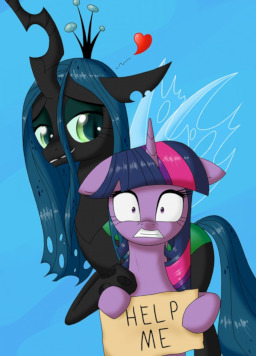 Source
For years, Twilight Sparkle and Queen Chrysalis have been at each other's throats. Both have experienced victory over the other, and both have experienced defeat. Out of all the creatures in Equestria, none despise each other the way the pony Princess and changeling Queen do. They seemed destined to remain locked in battle forever, or at least until one is finally dead at the hooves of the other. The cruel insults, the vicious loathing, and the powerful spells that have passed back and forth between them at each meeting have become the stuff of legend.
Imagine Twilight's surprise when she finds out changelings consider this dating.
And now they're married.
***
Sequel: Pony Courtship Rituals
***
Some beautiful fanart of the end of chapter three was done by Dmann892; you can see it here.
More awesome fanart, this time from chapter one.
Now with a TvTropes page (obligatory TvTropes warning goes here).
Chapters (8)