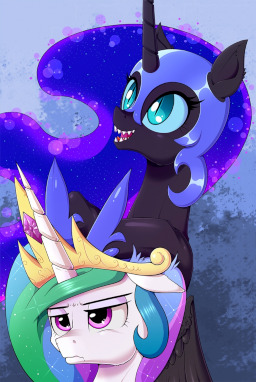 Source
This story is a sequel to The Trials and Tribulations of Trying to Date Twilight Sparkle
---
One hand, things seemed to be going perfect for Princess Celestia.
After realizing she had fallen in love with Twilight Sparkle, she was at first hesitant to reveal her love out of fear of rejection and damaging their relationship. However, thanks to the support of her friends, she was convinced to pursue her love. And, as a bonus, she made a new friend. After coming up with the perfect gift to give Twilight to prove her love, Celestia journeyed to Ponyville, ready to declare her feelings to Twilight.
On the other hand...
The new 'friend' she made was Queen Chrysalis.
Chrysalis is only friendly now because she's fallen in love with and is marrying Princess Luna.
The perfect gift was owned by a mob boss and Celestia was only able to obtain it by organizing a heist with the assistance of Princess Cadance and the changelings (who proceeded to empty the vault without telling anyone).
And due to a lack of communication, Twilight was not expecting Queen Chrysalis to show up out of nowhere, attacked her with the Rainbow Power, and as a result was turned to stone herself, along with Chrysalis, Luna, and Cadance.
Oh, and now Nightmare Moon has been freed from Luna's head and has her own body.
…
This is not what Celestia thought her love life would be like.
---
Proofing thank to ShutterflyYay, as always.
Chapters (17)