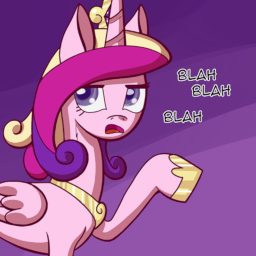 A collection of short, random stories. Most of these were comic ideas that, for various reasons, I've decided not to make into comics, but the idea was too good to just abandon.
A Real Princess: The ending to A Canterlot Wedding, re-imagined with Cadance acting more like a real-life princess rather than a perfect magical pony princess.
Sniper: Celestia raises the sun at the Summer Sun Festival, unaware of the pony standing on a distant rooftop...
Flutterdrunk: Twilight discovers the consequences of getting Fluttershy drunk.
A Night With the Moon: Nightmare Moon turns out to be more prepared for the Mane Six's attempt to retrieve the Elements than Twilight had though. Twilight is not prepared for what happens next.
Fish Food: Sunset Shimmer enacts her terrible revenge upon the Sirens.
Edit 11/28/15: Aaaaand I'm now out of character slots to add. I threw the 'other' tag on there, but just assume it's every character ever.
Chapters (6)