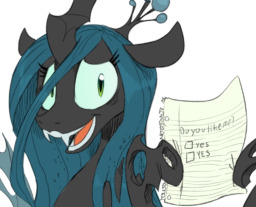 It's been two years since Chrysalis and her hive's reformation, but tensions are high as ponies are still getting used to the idea of working with changelings. Twilight Sparkle, determined to open up Chrysalis to the idea of friendship, convinces her to attend the annual royal meeting. To everypony else, it's simply a mundane meeting to catch up on current events. To Chrysalis, she would be in a room with all those who were once her mortal enemy.
No pressure.
Featured: 8/10/16 - You guys a freaking incredible! Thank you all for reading!
Rated for suggestive, sexy themes.
Special thanks to Setokaiva for proofreading. I do not own the pic, nor know who owns it, but if anyone can point me in the right direction to get permission I would appreciate that.
Chapters (1)